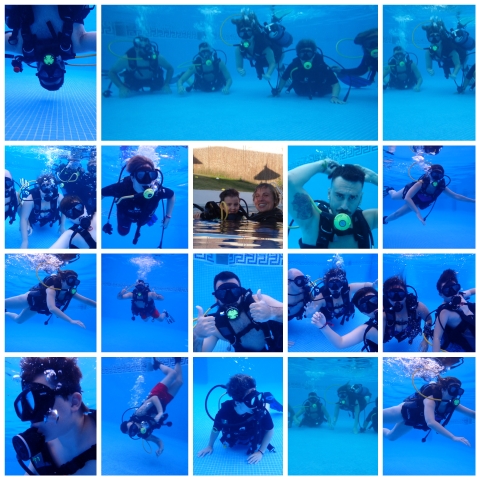 Firstly Scuba Diving in San Roque has fantastic sea bottom, rocky, sandy, wrecks. Secondly there are dive site for everyone. Thirdly Best dive site of Estepona, Manilva and Casares with PADI Scuba Diving School ScubaCourseSpain. Estepona has Underwater river formation which can be seen with any scuba diving equipment.
Rocky bottom, sandy beaches, a chiringuito at every dive sites. The Seahorses of Algeciras Bay, we have many dive site close by Gibraltar.
Estepona se encuentra entre Marbella y Gibraltar, que tienen muchos sitios de buceo diferentes con caballito de mar, Archeologic sites (French Galleon), sandy beaches.
We always bring our underwater camera with us, we make sure you bring many souvenir to the surface.
Diferentes cursos para diferentes necesidades, Bautismo de Buceo PADI - CMAS - FEDAS. Para principiantes y Open Water Advanced, nuestros instructores tienen más de 20 especialidades PADI de buceo.
Scubacoursespain se enorgullece de contar con muchos estudiantes de la Asociación Subacuática Casares como buceador y buceadora
Estepona dive School is equipped with a swimming pool where PADI student can practice their diving Skills. Our instructors are here to answer any diving questions. We bring the underwater camera on every dive.
Estepona Underwater
Its quality and importance resides in the presence of seagrass meadows (POSIDONIA OCEANICA). This space is very important because these meadows are located on the edge of their natural range.
The Posidonia oceanica meadows occupy an area of 2.5 ha, which represents 0.44% of the total protected area. Regarding the total Posidonia oceanica in Andalusia, this space contains only 0.06% of its surface and 0.03% of the total meadows. However, it is the westernmost area of the Natura 2000 network with the presence of this priority habitat; since these Posidonia oceanica meadows are located at the western limit of the distribution of this species.
On the other hand, in this space there is the only community of large pheophytes (with the laminarials Laminaria ochroleuca and Phyllariopsis purpurascens) of the entire Malaga coastline.
http://www.scubacoursespain.com