Sidemount Diving is not only for Tek Divers as a matter of fact: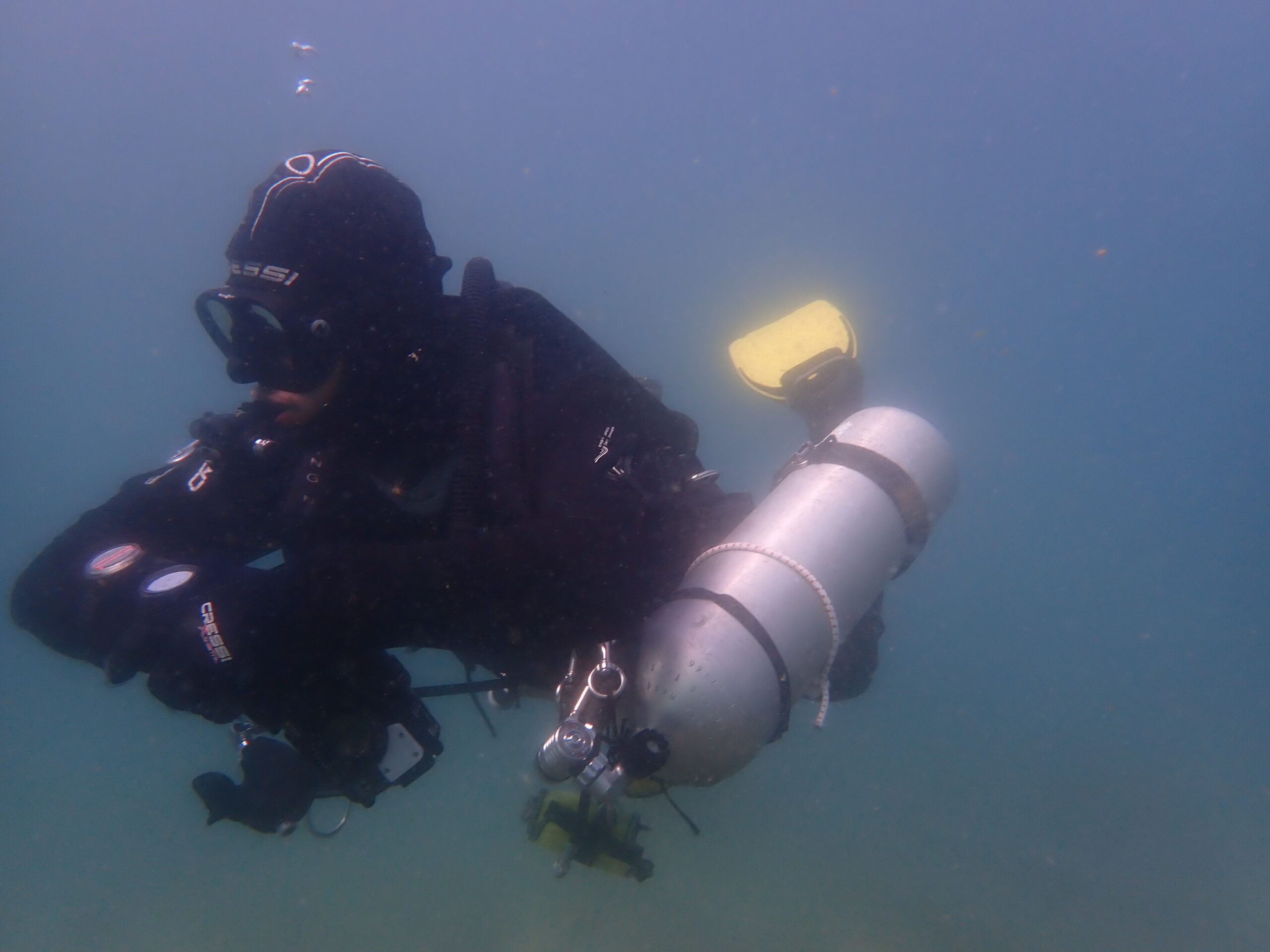 PADI Sidemount diving is for recreational divers! Many divers assimilate Sidemount diving to Tek diving, it might look like tek diving with all the hoses, second stages, and aluminum cylinders… Here on the Costa del Sol, we love to use our Sidemount equipment in shallow water for different reasons. First, a 7 liters Aluminium cylinder weighs 8kg. Secondly, the cylinder is clipped on our side which permits us to unclip it anytime and pass through the narrow entrance. We would not be able to achieve this with backmount equipment.
PADI Sidemount Diving on the Costa del Sol:
All our dive sites around Casares Costa, Manilva, and San Roque are rocky bottoms. This means there are many holes between and under the rocks to explore. The sidemount kit rigged on our side is equipped with a long hose for the second stage. No cylinders in the back bring extra safety to explore.
PADI Sidemount diving in Gibraltar:
Gibraltar is well known worldwide for its shipwrecks. At ScubaCourse we are PADI Wreck Specialty Instructors, to penetrate a wreck brings its danger with the narrow space, hanging cables, and sharp steel. The sidemount technique makes you trimmer and gets better control of your equipment in the confined space as the wrecks.
PADI Sidemount Diver specialty:
Thanks to our Association of Professionals, PADI created a 4 step course. Our instructor will start by going through the equipment assembly and disassembly and the main particularities of the Sidemount. You will learn to dive with one air cylinder, then with 2 cylinders. However, the setup is different between each configuration and we will go through all of it with you.
Linked Course:
Without a doubt anyone can start Sidemount diving from the beginning, there is no need to learn with backmount before learning with sidemount.
You can do PADI Sidemount specialty at the same time as the PADI Open Water Diver Course.
Never been diving before, try diving in sidemount is a wonderful experience. Our Instructor starts in shallow water where we can easily stand, the Aluminum cylinder is nearly neutrally buoyant (not floating nor sinking), which means you have no weight on your back and slowly you start breathing in the second stage, this is it! You are diving, our team will make you comfortable underwater and once you feel ready the Air tank will be clipped to your side, this is the start of the fun dive.
Neutrally buoyant Aluminum cylinder set in Sidemount unclipped from the diver
It is really important to have a good buoyancy technique, when you have some issues we highly recommend our SCS-PADI Peak Performance Buoyancy Specialty, we follow all the PADI recommendations and add our Experience to it.